EnjoyUNIPV: student ID and much more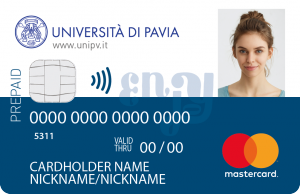 The UNIPV and UBI bank offer UNIPV student a student ID and also more services. Application and use of the EnjoyUNIPV as a student ID is free of charge. Some of the banking services may have a cost. More information about all the services offered to UNIPV students here: https://www.ubibanca.com/ubi/carta-enjoy-unipv
How to apply
Before proceding get ready:
cell phone, ID and Fiscal Code. Be sure to have a functioning webcam.
Once you succefully enrolled in UNIPV, go to your personal UNIPV area: studentionline.unipv.it, go to "SEGRETERIA" and select "RICHIESTA CARTA ENJOY".
Fill all the blanks with the required information and sign (you just have to isert the code that has been send by text to your mobile phone). You also are going to need to be recognized through the webcam. If you do not have a webcam, you may confirm your identy through a bank transfer.
If you succefully complete this process, you are going to get an email and the EnjoyUNIPV will be sent to your home address (he address you put in the personal area as "domicilio"). If you prefer you can choose to get the EnjoyUNIPV directly from your local UBI bank.