UNIPASS: how to get your Bus Pass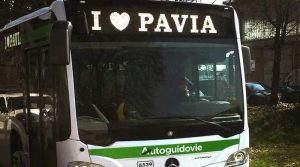 Dear Students,
UNIPASS is the card that allow all UNIPV students (including ERASMUS) free circulation on all buses in town and urban area at the cost of 20 euro for the mobility period (validity 2/09/2019-31/08/2020).
1. Once you dispose of your identifying card (this will be prepared by Autoguidovie and sent to you by the Erasmus Office) you will be able to buy your UNIPASS either IN PERSON by going to the Infopoint with your card number and paying in cash or with your credit card or ONLINE completing the procedure as indicated from point nr. 2).
The Infopoint is located in the Autostazione di Pavia (in front of the railways station). Address: Viale Trieste 23. Opening hours:  Monday to Friday 6.45 a.m. to 6.30 p.m.; Saturdays 7.30 a.m. to 12.30 p.m.
2. Continue to the section "Acquista on line" (Purchase online) on the pavia.autoguidovie.itwebsite and proceed with the purchase of the UNIPASS for the period 02/09/2019 – 31/08/2020. Verify that in the drop-down menu related to "Tipo di Servizio" (Type of Service) the selected item corresponds to "UNIPASS". The payment can be done with credit card (Visa and Mastercard). Alternatively, it will be possible to purchase the UNIPASS through the App Autoguidovie. Go to section "ACQUISTA BIGLIETTI" (Purchase Tickets) and select "RINNOVA ABBONAMENTI" (Renew Card). After having inserted the number of the card it will be possible to proceed with the purchase. Payment can be done with credit card Visa or Mastercard, Masterpass, Satispay and PostePay.
3. Once you have completed the purchase, download the new Autoguidovie App either from the Apple Store or Google Play and register yourself. In the section "I MIEI TITOLI" you will find the UNIPASS purchased to show to Autoguidovie personnel in the event of a check.
Until you have completed the on line purchase of your UNIPASS, do not use the bus without a valid ticket (1,30 euro for a single trip to be bought at newsagents' or tobacconist's) if you do not want to fined.
All timetables and routes are available on the Moovit Citymapper App.17
For further information, please contact infopavia@autoguidovie.it