UNIPASS: how to get your Bus Pass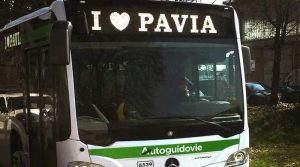 Our UNIPASS will cost you €15 and you can take all the bus within Pavia from from 1st September 2018 to 31st August 2019.
UNIPASS: How to get your bus pass.
You need to apply for an Autoguidovie Idetification card and the bus pass (the bus pass is issued only once you have and autoguidovie identification card). If you already apply for an autoguidovie identification card in March you can skip to the bus pass section.
Autoguidovie Identification Card
Before beginning get a photo ready, 50×40 mm in .JPG (max2Mb)
Go to pavia.autoguidovie.it and get to the TESSERAMENTO section, select RICHIEDI LA TESSERA and than "ISCRIVITI". Fill the blanks, choose TESSERA from the menu and than "VOGLIO CREARE UNA NUOVA TESSERA". Insert all the data and the photo. Confirm.
Autoguidovie will get your application and verify that you are an UNIPV student than it will send you an SMS and an e-mail with all the details of your new autoguidovie identification card. After you received this mail and texts, wait one day and than apply for your bus pass.
Bus Pass (15€)
Go to pavia.autoguidovie.it and than get to the "BIGLIETTI/ACQUISTA ON LINE", than to "UNIPASS" (the bus pass will be valid from 1st September to 31st August). You can pay the cost with your AteneoCard/Enjoy Card or credit card
You can also buy it from the Autoguidovie App once you have your autoguidovie idetification card. Go to "ACQUISTA BIGLIETTI" section and select "RINNOVA ABBONAMENTI". Insert your Autoguidovie idetification card number and than pay your UNIPASS.
Once you have paid you can dowload the autoguidovie app and you will find you bus pass there in the "I MIEI TITOLI" section.