Graduation
---
Defense Committee (graduation day schedule)
During you defense session you will defend your thesis in front of a Committee composed by at least seven members (three members for bachelor's degree). The list of teachers assigned to each Committee (and the opponent supervisor for master degree's defence) will be published on this webpage at least a week before the graduation day. In the same document you will find the schedule for your chosen graduation day.
Next graduation will be on September 27th 2022. All interested candidates must apply within the deadlines published in the official deadline calendar (scroll down to find and download it). 
It is very important that ALL GRADUATES registered for an ONLINE GRADUATION use the very same technology that they plan to use on graduation day. Get also ready a presentation draft that you can test and share on rehearsal day.
---
Calendar and deadline valid from October 2022
Please note that there are very strict deadlines for applying to a defence session: check them in the Graduation Calendar that you may find at the end of this webpage before you decide to apply.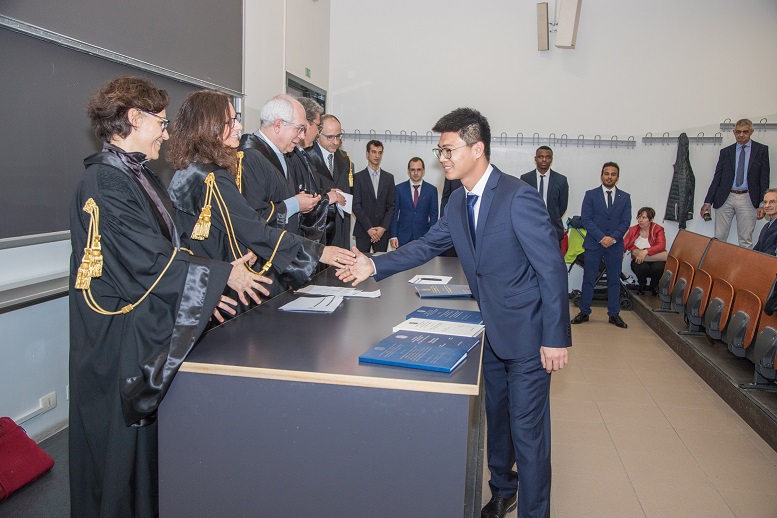 Once you acquired all the credits chosen in your study plan and they finished working on their master thesis, in order to graduate you have to apply to be admitted to a defense session. Usually students ask their tutor (italian: "Relatore") which session it would be best to apply to.
Instructions on how to submit your application and more here!
---
Useful Information – Title page
Title Page for a Master Program's Dissertation – academic year is 2021/2022 (Session for April 2023 included)
The official english names of the dipartments are:
Civil Engineering and Architecture Department (Dipartimento di Ingegneria Civile e Architettura)
Department of Electrical, Computer and Biomedical Engineering (Dipartimento di Ingegneria Industriale e dell'Informazione).
---