Graduation
---
Calendar and deadlines
Please note that there are very strict deadlines for applying to a defence session: check them in the Graduation Calendar that you may find at the end of this webpage before you decide to apply.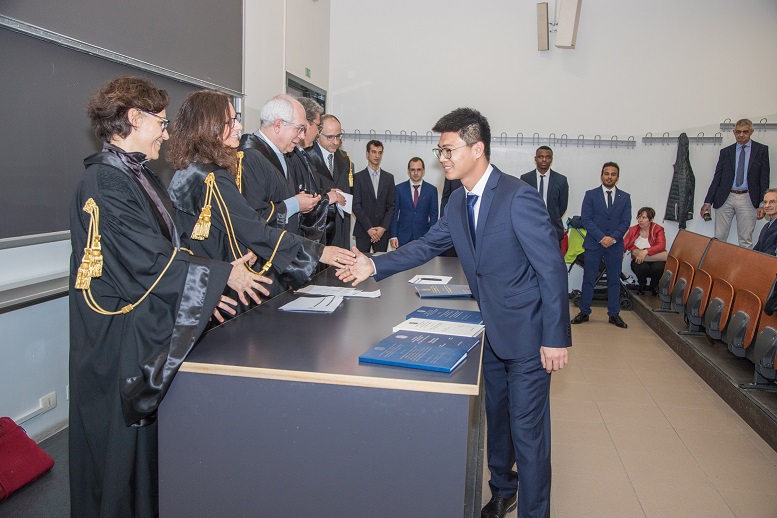 Once you acquired all the credits chosen in your study plan and they finished working on their master thesis, in order to graduate you have to apply to be admitted to a defense session. Usually students ask their tutor (italian: "Relatore") which session it would be best to apply to.
The application is submitted online through your reserved area.
In order to complete all your online steps you have to:
complete the survey and print the receipt from your "Alma laurea" personal area
print your application receipt that contains a summary of all the information
print your payment receipt
make the payment
Hand deliver to the Administrative Office (see the graduation calendar for deadlines)
a copy of your application and get your tutor (italian: "Relatore") to sign it
hard copy of your dissertation, Title page signed by your tutor (ONLY MSc student, NOT for bachelors)
a copy of the receipt of the survey downloaded from your "Alma laurea" personal area
receipt of the payment
By e-mail (see the graduation calendar for deadlines)
send a copy of your dissertation in pdf format to your official examiner (ONLY MSc student, NOT for bachelors): the examiner is the member of the committee that will read your thesis (this role cannot be taken by the tutor (italian: "Relatore") who guided  you in writing your dissertation); you will find his/her name in the graduation session calendar, in italian is called "Contro-relatore"
Please note that only Master and LS graduates must hand deliver a copy of their dissertation (duplex printing, signed by the supervisor and bound in paperback) within the shown deadlines to the Administrative Office.
---
Defense Committee (graduation day schedule)
During you defense session you will defend your thesis in front of a Committee composed by at least seven members (three members for bachelor's degree). The list of teachers assigned to each Committee will be published on this webpage at least a week before the graduation day. In the same document you will find the schedule for your chosen graduation day.
Here you find the graduation day schedule as soon as is available: select "Commissioni e orari" and download the pdf document.
---
Useful Information – Title page
Title Page for a Master Program's Dissertation
The official english names of the dipartments are:
Civil Engineering and Architecture Department (Dipartimento di Ingegneria Civile e Architettura)
Department of Electrical, Computer and Biomedical Engineering (Dipartimento di Ingegneria Industriale e dell'Informazione)
Dissertations written in English need to be completed with a summary written in Italian and they also need a title written in both languages on the Title page.
---