How to get a transcript/certificate of enrollment from UNIPV
There are two kind of transcript/certificate of enrollment that you can get and use:
Self-certification: transcript and certicate of enrollment
Attention!This method will not work if you have any pending issue with the administrative office such as payments or permit of stay update!If this is your case, scroll down to the next session "Certificate issued by the Administrative office".
In Italy any self declaration has legal value. The University of Pavia has created a standard form that you can download with all the information that are normally included in a trascript and/or certificate of enrollment.
Go to studentionline.unipv.it/ select english before login
login with your official credentials
choose Admissions-Self/certification
This is the list you will visualize/Choose Self certification enrollment with exams: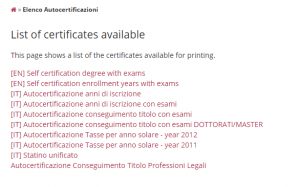 Certificate issued by the Administrative office
Outside Italy the self-certification is not legal. In order to get a certificate signed by the administrative office you have to submit a request and pay a 16€ revenue stamp:
Fill this form 
login with your official credentials
choose the correct request
state that you need a Certification enrollment with exams