Living in Pavia: Independent Accomodations
When you look for an accomodation in Pavia you may look into an independent accomodation or into our halls of residence run by EDiSU, our agency for the right of study.
Your main options are halls of residence privately run, rent a room or a flat.
Private Halls of Residence

Admission and retention procedures are defined by each College individually. Below we indicate some of the most renowned colleges and the link to their websites:
Looking for a house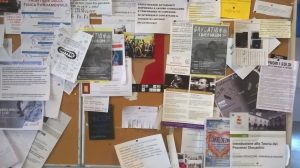 Another accommodation option is to rent an apartment or a room.
In our notice board – placed in the atrium of the Engineering Faculty – students can find announcements for single beds or single bedrooms.
Other notice boards are available at the University headquarters (Strada Nuova, 65) or in the University Departments.
The "Centro Assistenza Studenti" association may also help you to find an accomodation before arriving in Pavia. Here there is a direct link to their website: Centro Assistenza Studenti
Temporary Solutions
For the first days/weeks, staying in a hotel, hostel or a B & B can be a temporary solution. The University Public Relations Department offers a list of available facilities in Pavia.